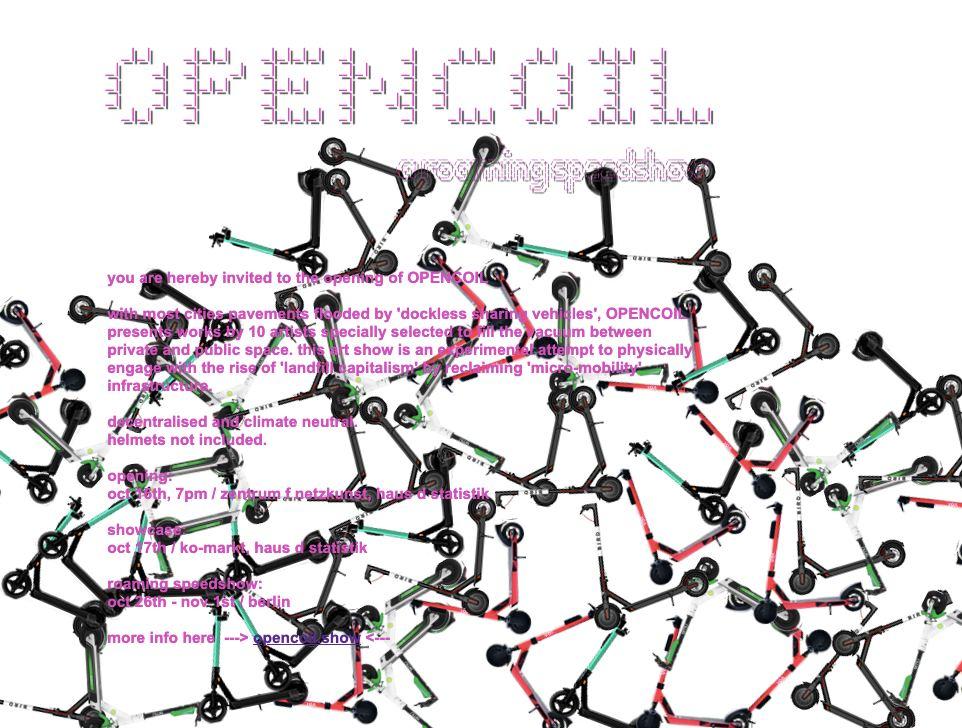 OPENCOIL
OPENCOIL is an exhibition that operates within micro-mobility services in urban space by using the decentralized infrastructure of e-scooters for displaying art, while also addressing the conditions and effects of this infrastructure. 10 artists present their works on a small Wifi controller with ~2MB offline memory, which are connected to 10 randomly-selected e-scooters in Berlin. As soon as the scooters are rented, visitors get access to the exhibition via their smartphones. If connected to the local unencrypted WiFi network sent by the Wifi chip, a web portal opens automatically, where the works can be viewed. The current locations of the artworks can be followed at Haus der Statistik, as well as on this website: https://opencoil.show/# (https://opencoil.show/)
OPENCOIL is not only a pandemic suitable way to show art in public offline space, the exhibition is also a creative (re-)use of e-scooters: an attempt to approach them through artistic intervention. The presented works deal with questions of the overlap between public and private space, the employment of resources, as well as greenwashing, venture capitalism, and vandalism. All works have been optimized by the artists for mobile viewing.
Participating artists:
Aram Bartholl | Constant Dullart | Dennis de Bel & Anton Jehle | JODI | Jonas Lund | Martin Howse | !Mediengruppe Bitnik | Rosa Menkman | Sarah Grant | Sofya Aleynikova
Roaming speedshow
26.10. – 01.11.20, throughout Berlin
For further information:
Press:
https://taz.de/Digitale-Kunstaktion-opencoil/!5720634/
---
Florian Tscharf: Whois 100
Florian Tscharf presents at Zentrum für Netzkunst his work Whois 100 and the idea of "collecting collectors" by which he questions the prevailing power structures of the art market.
Florian Tscharf (*1987) is a Berlin based video and media artist. He studied Media Design in Ravensburg, Directing at the Baden-Württemberg Film Academy and Screen Based Arts at the Bezalel Academy in Jerusalem.
29.09.2020 at 6 PM, Zentrum für Netzkunst @ Haus der Statistik, Haus D, Otto-Braun-Str. 70-72, 10178 Berlin
---
stick.t.me
The exhibition presents stickers and sticker sets that have been produced by 19 different artists and collectives who have participated in the online artist-in-residency program organized by the Zentrum für Netzkunst on the Telegram messenger app. The sets can be collected online on Telegram or offline in a limited-edition scrapbook available at panke.gallery.
Participating artists:
Nadja Buttendorf | Sjonnie Barbarossa | Emma Damiani | Nieves de la Fuente | Carla Gannis | Nadja Buttendorf | Sjonnie Barbarossa | Emma Damiani | Nieves de la Fuente | Carla Gannis | Emilie Gravis | Max Grau | Franziska von Guten | Joan Heemskerk | Thiago Hersan | IOCOSE | Merz Akademie Stuttgart | Rosa Menkman | Lorna Mills | Marie Luise Möller | New Media Class Kunsthochschule Kassel | Miyö Van Stenis | igor štromajer | Barbora Trnkova [&] Tomas Javurek
Slow opening
Sat June 13 2020
4pm–10pm
7pm live coding performance by IOCOSE
Please register via info@netart.berlin if you would like to attend the opening on-site. The number of participants is limited to fifty people. If you have not registered you are still welcome to attend but may need to wait to ensure we do not exceed capacity.
Regular opening times
Wed–Sat 3–7pm
June 17–July 4 2020
Location
panke.gallery
Gerichtsstraße 23
Hof 5
13347 Berlin
Press
"Sammelbildchen für alle Fälle" by Tilman Baumgärtel (27.06.2020)